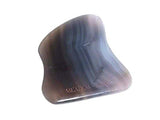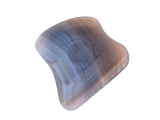 Agate Gua Sha by Marisa
GUA SHA is an ancient ritual that sculpts, tones and rejuvenates the skin by creating space and circulation.  Increased blood flow and movement of lymphatic deposits has been shown to visibly decrease inflammation and stimulate collagen production. 
For use after applying facial oils when skin has slip, allowing Gua Sha to move effortlessly across the face neck, check and body.
The Agate Gua Sha, designed by Marisa, is known for it's energies associated with clarity, enhanced perception, and cleansing the aura of negative energies.  
Agate can bring out your natural skills and talents while healing inner anger and anxiety, helping to strengthen relationships.  
No two stones are alike.
Comes in white pouch with lace trim.