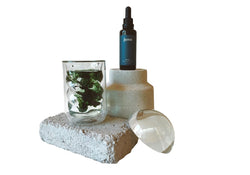 Juna Detox Drops
These antioxidant-rich drops are the ultimate agent for daily detoxification to promote digestion, support debloat, and boost overall health. They taste amazing so you actually want to drink them and transform boring water into a powerhouse of a drink.
GREAT FOR: overall health, digestion, gas, liver, aging, skin, hair, nails, healthy weight management.
WHEN TO USE:
Daily for detox and boosted energy levels.

To eliminate internal toxins.

To aid in digestion and reduce gas.

Antioxidants to build immunity.

Morning after alcohol consumption.

For healthy skin, and hair/nail growth.

To increase circulation and blood flow.

As an internal deodorant.
HOW TO USE:
Drop full contents into a glass of water up to 3x/day.