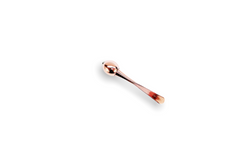 Eye Roller
De-puff and increase circulation with this little miracle roller.  
Apply your eye serum, or creme, and gently massage the roller under the eye and towards the outer corner of the brow.  
This device visibly improves skin texture, and firmness, while reducing inflammation.  
Made of rose gold plated stainless steel, easy to clean with a bit of soap and water.