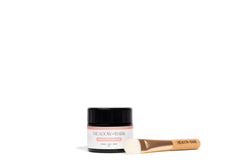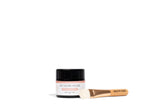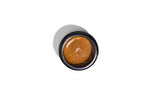 Manuka Moisture Mask & Brush
Our Manuka Moisture Mask is loaded with skincare benefits and is formulated with medical grade Manuka, UMF 20+, hailing from New Zealand. It's a radiant, moisture boosting mask that calms redness while removing dead skin cells and enhancing skin's natural barrier. Silky, soft skin awaits you. 
Who's It For? All skin types, especially dry, congested skin.
Scent Profile: Just like an afternoon honey tea with notes of Bergamot.
How To Use: Apply generously to clean skin by using the M&B Manuka brush. Allow to dry and leave on for at least 20 minutes. Rinse thoroughly with a steamy, washcloth and follow with serum and moisturizer. 
Key Ingredients: 
Manuka- this golden nectar is known for its antibacterial and moisturizing properties and is especially great for those who suffer from acne, eczema, and dry, irritated skin.

 

Pumpkin Seed Oil - its Vitamin C content supports the production of collagen, which helps skin retain elasticity and firmness.

 

Gotu Kola Extract - helps in boosting collagen, forestalling the presence of wrinkles, pigmentation, and pre-mature aging.

 

Lactic Acid - Improves skin tone and texture, visibly reduces hyper-pigmentation while unblocking and cleansing pores.
Hyaluronic Acid - skin plumping, water loving ingredient that is known to hold up to 1000x its weight in water.

 

CoQ10 -supports skin health while reducing signs of premature aging.

 

Thanaka - tree bark from Myanmar has anti-fungal, anti-inflammatory, antioxidant, and youth preservation properties.

 

M&B's proprietary Phyto-Lumen Complex infused in raw, organic, fair trade shea butter firms, brightens, and deeply nourishes skin for visible softening and smoothing.

 

Vitamin E - a powerful antioxidant that is effective at reducing visible signs of sun damage.
Ingredients: UMF20+ manuka honey, kaolin clay, aloe juice, pumpkin seed oil, cocoa powder, sunflower seed oil, lactic acid, lauryl lactyl lactate, propanediol, coffee seed oil, sodium pca, Phyto-Lumen Complex of purslane, calendula, alfalfa, borage and coltsfoot extracted within fair trade, raw, organic shea butter, gotu kola extract, aroma**, coQ10, hydrogenated castor seed oil, glycerin, castor seed oil, sodium hyaluronate, nettle extract, thanaka, vitamin e, phenethyl alcohol (and) ethylhexylglycerin, turmeric root, mica.  **clinical grade essential oils. (bergamot, palmarosa)