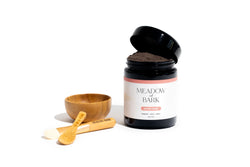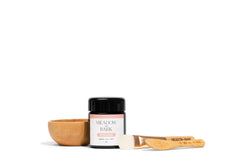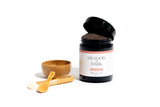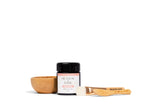 The Detox Mask and Bamboo Bowl Set
A delicious concoction of earth's finest ingredients, designed to purify and brighten. The Detox Mask pulls out pesky blemishes waiting to happen so you can control their destiny.
Scent Profile: Cocoa earth. PS Do not inhale mask powder.
How To Use: Use 1x weekly as part of your 'get ready for the week' ritual. Add 1 part powder to your M&B bamboo bowl and add slightly less than one part water. Mix to a paste and then paint your face, neck, back and anywhere you need a detox. Rinse after 20-30 minutes with a warm washcloth, gently pulling away from the eye area.
Pairs Well With: Top your skin off with hydrating botanicals and treatments such as: The Hydrating Mist, Brightening Essence and one of the following: Adaptogen Bleu Facial Recovery Oil / Moroccan Bleu Moisture Boost / Botanical Serum / Adaptogen C Pressed Serum. Skin will be brighter, smoother, and purified.
Key Ingredients: This multi-tasking detox mask is infused with Raw Cacao, Lavender, Hibiscus and Rose and features Mineral Clays, Thanaka, Tremella Mushroom, warming spices, plus a super dose of Vitamin C. 

Ingredients: Solum Fullonum Clay, French Rose Clay, Theobroma Cacao*, Red Alaea Sea Salt, L-Ascorbic Acid (Vitamin C) Sodium Bicarbonate, Activated Bamboo Charcoal Powder, French Green Clay, Hibiscus Rosa-Sinensis (hibiscus)* Powder, Tremella Fuciformis Mushroom Powder, *Vanilla Planifolia Bean, Kakadu Plum Powder, Rosa Damascena Powder, *Lavandula Angustifolia Flower, Althaea Officianalis Root, Thanaka, Boswellia Serrate Gum Powder, Centella Asiatica, Archangelica Root, *Cinnamomum Zealanicum Blum, Myristica Fragans, Papain, Curcuma Longa, Capsicum Annuum Pepper, +Eugenol, Limolene.
*Derived from Organic Farming