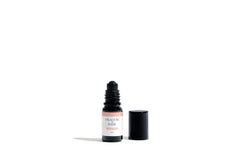 The Zit Slayer Pimple Serum
Say goodbye to unwelcome pimples. 
This potent treatment features purifying actives and vitamin E to soothe and reduce the appearance of blemishes.
Dab a drop or two on blemishes 2x a day or mix 1-2 drops in with your favorite moisturizer as a preventative measure.
Featuring Hemp & Black Cumin Seed Oils with antibacterial, antimicrobial and anti-inflammatory properties that help visibly reduce acne.
Tea Tree Oil - made from the leaves of the Australian tree, with it's anti-microbial and anti-inflammatory properties has been used to alleviate inflammation from acne while reducing bacteria on the skin.
Rosemary - a refreshing astringent that helps to balance and decongest acne prone skin.
Lemon Peel Oil - can kill bacteria that gets trapped in pores and causes acne.
Peppermint Oil - with it's antimicrobial properties, peppermint oil may help reduce levels of acne causing bacteria on the skin to help treat pimples.
Cajeput Oil - antiseptic and is known as the sister ingredient to tea tree and eucalyptus.
Vitamin E - soothes, reduces inflammation and visibly repairs skin.
Ingredients: hemp seed oil, black cumin seed oil, vitamin e, cajeput oil, tea tree oil, rosemary oil, lemon peel oil, peppermint oil.
cannabis Sativa (hemp) seed oil, nigella sativa (black cumin) seed oil,
di-alpha tocopherol (vitamin e), melaleuca leucadendron cajaputi oil, melaleuca alternifolia leaf oil, rosmarinus officinalis flower oil, lemon peel oil, piperita oil.