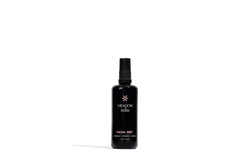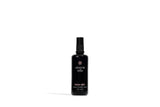 Facial Mist with Hyaluronic Acid Multiplex
This 'pick me up in a bottle' is a hydrating and refreshing essence that visibly plumps and revives tired skin. A blend of three forms of hyaluronic acid, aloe juice, botanical distillates and colloidal silver distillate, form an exciting elixir for any time of day! Choose from various scent profiles below.
Who's it For? Best for dry skin, fine lines, and those in need of overall toning, clearing and hydration.
Scent Profiles: 
Frankincense - astringent that slows the visible signs of aging while tightening, lifting and boosting feelings of well being. Great for reactive, sensitive skin.
Lavender Haze - Our original scent featuring a base of organic lavender hydrosol with essence of neroli, jasmine and sandalwood - designed to deliver a youthful glow, while providing calming, antiseptic properties and reducing the appearance of fine lines and wrinkles.
Neroli Rose- A gentle astringent that tones dry and mature skin to deliver extra hydration and youth preservation.  Damask rose oil has also been used therapeutically to soothe the mind and combat depression, nervous tension and stress.
How to Use: Mist 2-4 pumps on face, neck, and chest in the AM and PM to "soup" up skin before applying serums and moisturizers, allowing for maximum absorption. A light spritz also helps to set makeup and refresh the skin throughout the day.
Pairs Well With: All M&B Products.
Key Ingredients: Mini, Micro & Macro Hyaluronic Acids, Botanical & Colloidal Silver Distillate, Aloe Juice, Saccharomyces Ferment. Gluconolactone, a (PHA) Polyhydroxy Acid that gently exfoliates by dissolving dead skin, helps minimize fine lines and discoloration, hydrates, and helps to dissolve excess oil - all of this while delivering antioxidants.


handcrafted botanical distillate, colloidal silver distillate, aloe barbadensis leaf juice*,glycerin, propanediol, camellia Sinensis (green tea) extract*, acacia gum, saccharomyces copper ferment, calendula officinalis flower extract*, camellia Sinensis (green tea) extract, sodium hyaluronate, sodium hyaluronate, hyaluronic acid, salix alba (willow bark), aroma**, gluconolactone, sodium benzoate, calcium gluconate, sodium hydroxide, citric acid. May contain compounds associated with certain essential oils and distillates : α-santalol and β-santalol, citral, citronellol, eugenol, geraniol, limonene, linalool, farnesol, α-guaiene, seychellene, α-patchoulene, α-bulnesene and patchouli alcohol.
*Derived from Organic Farming.
** Clinical grade essential oils blend.