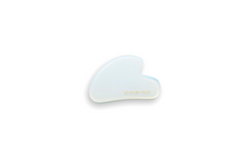 Opalite Gua Sha
A contouring beauty tool used for centuries by the Chinese, the Gua Sha promotes lymphatic drainage, circulation and de-puffs with daily use.
We chose Opalite for the stone of this tool as it is a gem that brings inner peace, and a sense of calm, while also boosting confidence.  
Comes in small velvet bag for storage.
We recommend using the Gua Sha after applying one of our Facial Oils.
Benefits:
Smooth Skin
Lymphatic Drainage
De-puffs
Contours
*Do not freeze Gua Sha - stone may become brittle and crack.*