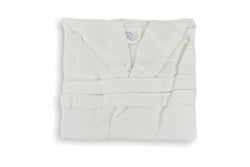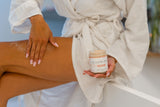 Organic Turkish Bath Robe
Luxurious, lightweight and absorbent, our 100% Organic Cotton Turkish Bath Robes are perfect for all year round.  Enjoy them as a beautiful coverup, or as a cozy after bath lounger.
Pestemal robes have been a staple of the unique and authentic Turkish bathing experience for centuries.
Small - Medium
Measures 43.5" Length, 21.5" Shoulder, 53" Chest.
Weights 480 grams (1.05 lbs.)
Large - X Large
Measures 46" Length, 23" Shoulder, 55" Chest
Weights 520 grams (1.14 lbs.)